Experience
The CLIENT Application
and its features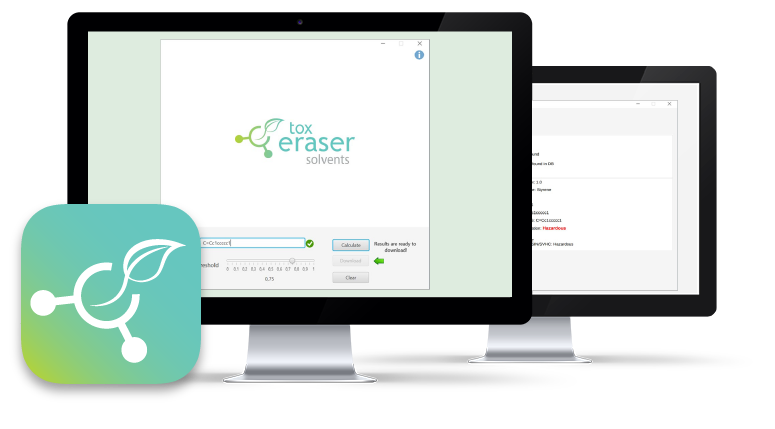 Features
Freely available: No registration is required.
One-shop system: one-shop system for the substitution of risky chemicals.
High-throughput system: provides a substitution approach based on health and environmental assessment and a similarity algorithm.
Real case focus: provides information specifically related to the solvents case study.
Download Installing and starting ToxEraser Solvents Software
ToxEraser Solvents is a JAVA application that works on every operating system (Windows/Linux/Mac) supporting Java. Before proceeding, please check what version of Java is installed in your OS and if the JAVA_PATH environment variable is correctly set (for further details, please refer to Oracle documentation).
ToxEraser Solvents works with Java 8 or OpenJDK Java 11+: depending on what version is installed or set in your operative system please follow the instructions below:
WINDOWS:
JAVA 8: Download and unpack the zipped file. To start the application, move to the application folder and run the file starter.bat
OPEN JDK JAVA 11 or greater: Download and unpack the zipped file. To start the application, you can just run the file TToxEraserSolventsGUI-0.8.4.jar. On most systems, it is enough to double-click it. If you are not able to directly run it, open a command line window (like Command Prompt or PowerShell on Windows systems) move to the application folder and type:
java -jar ToxEraserSolventsGUI-0.8.4.jar
LINUX/MAC OS
Make sure to install the latest LTS version of Java. First, in a shell update the apt package index with sudo apt update command.
Once the package index is updated install the default Java OpenJDK package with sudo apt install default-jdk
When the installation is complete, move to the application folder and execute sh starter.sh or bash starter.sh, or double click on starter.sh file
ToxEraser Solvents Support:
Please contact Vermeer Project team in case you need further information.